The Ingraham High School Graduation Class of 1964 Official Website. Providing our classmates with reunion information, class listings, communications and class news letters.
Let your thoughts go back now to Ingraham High School and the year of our graduation, 1964. (some might say release date) We had all spent the past 3 years in higher learning and in further preparation for adulthood. Armed with what Ingraham had to provide, an extremely good education, we would now go on to college or out into the world to learn how things were really done.
Who shall forget their 3 years at Ingraham High School?
1964 was an important year for all of us and as important as our graduation was, our class reunions hold their own level of importance. Our reunions afford the opportunity to rekindle past friendships and make new friends. Our Web site provides you the means to keep track of our class and even find missing classmate friends.
Updating your contact information or REJOINING Your Ingraham Class of 1964 is easy!
If you are one of our MISSING CLASSMATES, you are cordially invited to register with your INGRAHAM CLASS OF 1964. You must be registered to receive our class news letters, other information relating to our graduation class or reunion information.
MINI – REUNION…
Our class mini-reunion was on September 10th and took place at Mama Stortini's Restaurant – 401 NE Northgate Way.
Pictures were taken during the event and are available to view and or download. Select "Mini-Reunion 2017" from the above drop down menu item "Class Reunions".
Where Are All of Our Classmates Today?
Based on registered classmates, the majority of us are still here in Washington.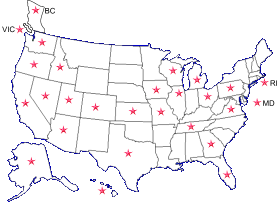 Have You Been DELETED?
Email server technology (tightening of the screws) mandates that if our class email to you is rejected (a hard bounce) by your service provider, you are then AUTOMATICALLY DELETED from our class of 1964 mailing list.
You may download the current list of classmates who HAVE BEEN deleted and as a result of failing to keep their email address current. All is not lost however! If your name is on the deleted list and you wish to re-join the mailing list, you can do so. Follow the instructions at the end of the download file.