We Live in The Land of The Free, Only Because of The Brave. Speak Softly, When You Mention His Name.
Our Classmate, Lawrence Lee Fullaway
1945 – 1968
The war in Vietnam would in some way touch each of us. Be it none so great as for those who were there.
For the moment let us cast aside any harbored feelings towards that war and yet still acknowledge the tragedy of all those who gave their lives in that cause. Aside now, we can not, nor shall we allow ourselves to forget, that our classmate, Larry Fullaway, gave of his life there.
Many of us did not personally know Larry and In a class the size of ours, some 700 students, it was impossible to know everyone.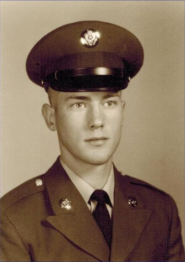 Larry was 23 years old and was married. He was born on February 16th, 1945 in Seattle, Washington. Most recently, (2008) we learned that Larry is survived by a brother, 2 sisters and his mother. Larry served our country for 2 years.
Larry's name, "SP5 Fullaway" is forever engraved on Panel 49E, Line 021 of The Vietnam Memorial Wall in Washington D.C. In of his sacrifice and In his memory, Larry's name, joins with others, on a hallowed wall at Ingraham High School. They now, who would honor those names are there reminded, that freedom, is not free.
In his memory and in recognition of his self sacrifice, we, his Ingraham Graduation Class of 1964, preserve this thought… Larry, you were one of the best of our generation, a true hero.
Thank You Larry – THANK YOU!
Your Ingraham Classmates
336th Assault Helicopter Co…Unit Report
A copy of a researchers military report from "Faces From The Wall."
On 26 Mar 1968, the Warriors went on a "snake hunt" at Rach Gia. Shortly before dark Cpt. Hoover put in 40 troops to look for an arms cache. Two ship loads of arms and ammunition were found and two Warriors went in to get it. The first helicopter received fire as they lifted off with their load of explosives. Two men were hit by bullets, neither seriously injured.
The second aircraft piloted by WO Don Klotz and WO Robert Offutt went into the LZ to pick up the remainder of the cache. Heavy fire was received and SP5 Lawrence Fullaway, the ship's gunner, was seriously wounded in the back. WO Klotz was also hit by shrapnel in the neck and leg. The aircraft made it back to the staging area, where maintenance quickly determined that it was un-flyable. The ship had a total of 27 bullet holes in it!
Bruce Swander, Vietnam Researcher, reports that Lawrence Fullaway was taken to a field hospital with wounds that were to later prove fatal. Some of the men he served with were not aware that on April 11, 1968, Larry died from these wounds.
Also on the Unit Report was a promotion list and SP5 Lawrence Fullaway was listed as receiving a promotion during the month of March. Unit notes and researcher comments
FOREVER REMEMBERED.
The following is a quote from a letter home by Maj. Michael Davis O'Donnel, (K.I.A.) 24 March 1970. Distinguished Flying Cross: Shot down and killed while attempting to rescue 8 fellow soldiers surrounded by attacking enemy forces:
"If you are able, save for them a place inside of you, and save one backward glance when you are leaving for the places they can no longer go. Be not ashamed to say you loved them. Take what they have left and what they have taught you with their dying and keep it with your own, And in that time, when men decide and feel safe to call the war insane, take one moment to embrace those gentle heroes you left behind."